FICTION
As of now, ebooks of my novels are only available through Amazon and Kindle Unlimited, since they don't seem to be noticed or sell on other platforms. Print copies are available through multiple retailers, including Amazon and Book Depository. Audiobooks are available through Amazon, Audible, and iTunes. I plan to make my ebooks available through other retailers periodically, so sign up for my newsletter if you want to stay updated on that and on upcoming releases. For more information on my Magic Collectors story world and the series connections, see The Magic Collectors Story World page under the Books tab. For those who have visited my amazon author page, The Beast's Enchantress is the old title for The Rose and the Wand.
The Star Clock Chronicles
In a world where the sun is a myth, dawn is coming.
Bertram Orren expected trouble with both the Time Keepers and faeries if he got caught in the faerie woods. He didn't expect to get trapped in an abandoned faerie court deep underground while trying to save airship captain Marianna Bowditch from a will-o'-the-wisp. Nor did he expect he and Marianna to discover an ancient treasure that could help free the world from the Time King's control, one that could bring back the people's ability to navigate for themselves in a world where sun and moon, east and west are myths hidden by the faerie queen's Star Veil. Even if Bertram and Marianna escape the caves, they've no way to navigate themselves to an airship port and safety, and if the Time Keepers find them, the world will never see the dawn.
DAWN BRINGER is clean steampunk adventure-romance novelette. It is book 1 of The Star Clock Chronicles, a collection of standalone, connected novelette- and novella-length stories telling of the defeat of the Time King and the coming of dawn.
Airship captain Davy Bowditch wants to build a Star Clock so man won't be dependent on the Time King and his automaton navigators, but to do that, he'll need the help of one very unusual woman—if he can convince her he didn't kidnap her on purpose—and an airship pirate—if he can convince him he didn't kill his son. But in a world where sun and stars are myths, the truth of their existence long hidden behind a faerie veil, trying to build a clock is tantamount to treason.
Former pirate Colin O'Connor swore never to return to his old ways, but when Davy Bowditch goes into hiding and tasks Colin with gaining the iron harpoons needed to destroy the faerie queen's Star Veil, he's forced to go to his smuggler cousins for help gaining the forbidden metal. But neither the smugglers nor the Time Keepers trust Colin now that he's a Sky Keeper, so it's no surprise when a mysterious stowaway warns him he's walking into a trap. But Colin's determined that either he gets the iron or dies trying.
Colin O'Connor may have escaped with the iron needed to destroy the Star Veil, but the Sky Keepers still don't know where the Veil is. Colin heads back to Reydon to find out what he can, and maybe gain the help of the stowaway who saved him from the Time Keepers once before, but Vesper Vanon isn't a typical stowaway—she's a descendent of the Time King himself. Helping Colin could cost Vesper her life, and that's a price Colin isn't willing to let her pay.
Airship captain Kingsley Bowditch is dead. So the world thinks. A slave in the mines where the automaton navigators' crystals grow, he's doomed to labor for the Time King, the man he'd hoped to overthrow. But then Sky Keeper smuggler Caroline Lockley sneaks into the mines and asks for his help to find the crystal that will guide the Sky Keepers to the Star Veil to destroy it—before the Time King arrives for it. Getting the crystal might be easy, but getting it out—with guards, gates, and stray fey creatures between them and the sky—might not. Dusk is coming for the Time King's rule or for the hopes of the Sky Keepers in this exciting conclusion to The Star Clock Chronicles.
THE STAR CLOCK CHRONICLES COLLECTION
All five stories are available in this collected edition in ebook, paperback, and hardback.
THE MAGIC COLLECTORS
Jane Austen romance meets fantasy adventure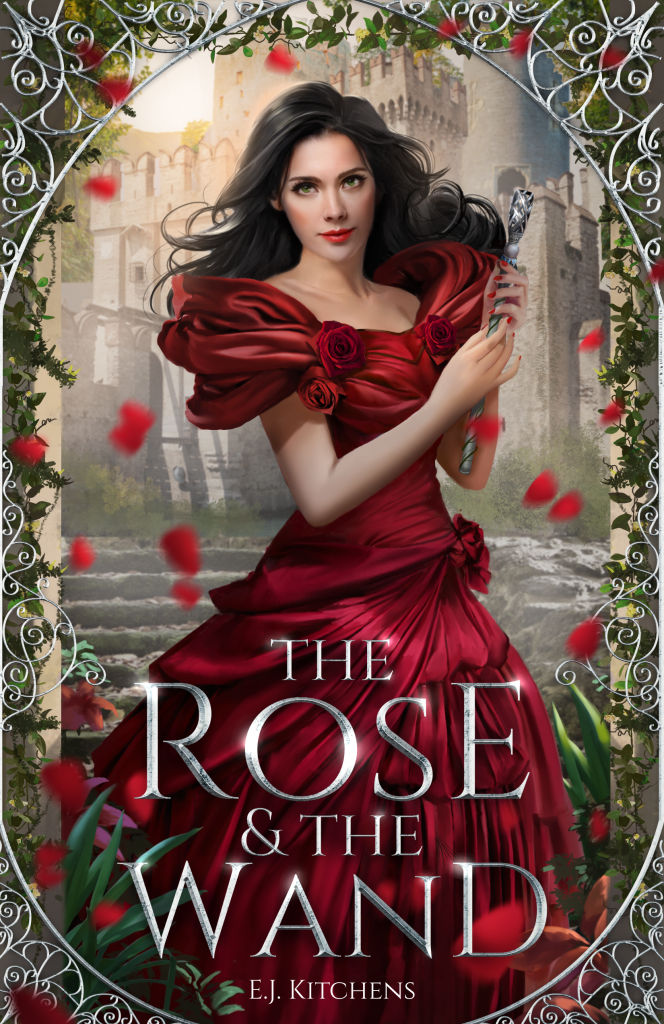 One curse won't cure another, or will it?
When prim and proper enchantress Lady Alexandria attempts to bewitch a magic mirror, she ends up cursed—powerless, penniless, dumped in a strange land, and stuck in the body of an old hag.
As if that weren't bad enough, the mirror gives her two tasks: curse the prince whose arrogant cruelty she once ignored and find her way home—before the Magic Collectors find her and strip her of her powers forever and before the mysterious woodsman who finds her lost in the forest discovers who she really is.
The prince she curses must learn to love before an enchanted rose dies or he will remain a beast forever. Will her fate also be sealed when the last petal falls?
The Rose and the Wand is available for sale on amazon.com.
An audiobook version is now available Audible, amazon.com, and iTunes.
The Rose and the Wand was the Fellowship of Fantasy Book Club Book of the Month for November 2018. It was formerly published as The Beast's Enchantress.
Never tangle with a magic thief.
Falsely accused of being the notorious Magic Thief, the non-magic Marcel Ellsworth wants nothing more than to stay away from enchanters and sorcerers. Unfortunately, he soon discovers his mentor, the Duke of Henly, is head of a family of proud enchanters—and that they're the next target of the Magic Thief. With the threat of another accusation hanging over him, Marcel sets out to prove his innocence, especially to the duke's beautiful daughter Gabriella, and to stop the Thief once and for all.
But Gabriella is hiding a deadly secret that complicates Marcel's mission, and raises its stakes. For one thing is certain: the Magic Thief has come for more than magical treasures—he's come for Gabriella.
To Catch a Magic Thief is available as an ebook or print copy on here or through other retailers here. An audiobook will be released spring 2021.
Realm and Wand, book 1 (A MAGIC COLLECTORS SERIES)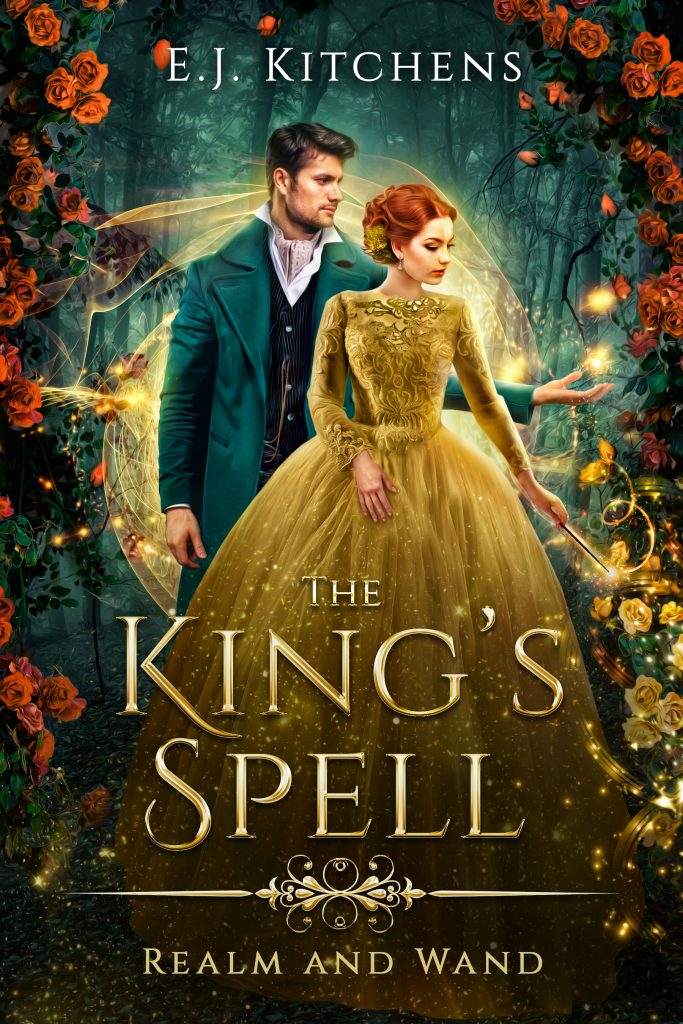 Only a king can banish sorcerers and strip enchanters of their power. Only a king is immune to spells and potions. Only a king knows the truth behind the legends. Until now.
Magic Collector Devryn Ashby may have deserved the curse that saps his magic-manipulating abilities, but it certainly won't help him with the task King Reginald has assigned him. Instead of allowing him to continue hunting for those who stole the powerful Enchanter's List, the king makes Devryn trainer-in-magic to the mischievous enchantress Lady Meredith Lofton.
Except for an occasional matchmaking exploit, Lady Meredith has little use for her power of enchantment—until the king asks her to train in magical warfare techniques. This both excites and terrifies her. And irks her, for she refuses to be bossed around by the critical Devryn Ashby, a man she's not even sure she should trust.
But as dangers increase and the sorcerers' schemes unfold, Devryn and Meredith must choose whom to follow—their own desires and prejudices or their king. Only a king knows how much the kingdom depends on their choice.
***Releasing summer 2021***
A CURSE KEEPER, CURSE BREAKER Fairytale

Even a Useful Curse Must End
Belinda Lambton knows a curse when she sees one. She also knows the wisdom of agreeing with a powerful enchantress. So when she inadvertently gets mixed up with a cursed Beast and his enchantress, she finds herself tasked with the role of Curse Breaker. That's not an easy position, for Beast has reasons of his own to keep his curse. There's also someone else determined to break it by whatever means possible and claim Beast for herself, and she doesn't take competition well.
With wit, clean romance, and a touch of danger, Midnight for a Curse is a retelling of the beloved Beauty and the Beast tale.
Midnight for a Curse is available here. An audiobook version is now available.
CURSED FOR KEEPS
A CURSE KEEPER, CURSE BREAKER Fairytale
Robert, Duke of Pondleigh, already has one curse, so what's another one? Or two? If only these things involved fighting monsters—or even being turned into one—he'd be fine. But attempting to force him into marrying the woman who nearly killed him by cursing him to either gain a lady's kiss each day or become a frog, simply isn't gentlemanly. The fact the princess he's been in love with for years won't even answer his letters, much less see him, doesn't help his chances of freedom.
Princess Snow has excellent reasons for going into hiding at the Cottage for Retired Enchanters deep in the New Grimmland forests, reasons like a terrible secret and an overprotective stepmother. When Robert, the duke she thought had forgotten her, shows up as a frog, he seems to think she's his curse breaker, but Snow knows better: her kisses are poison.
With wit and clean romance, Cursed for Keeps is a mashup retelling of "The Frog Prince" and "Snow White and the Seven Dwarfs."
Cursed for Keeps is available in print and ebook here and as an audiobook at amazon, Audible, and iTunes.
Of Magic Made, book 1 (A MAGIC COLLECTORS series)
Athdar Owain is a hunted wanderer, one determined to keep his secrets and the treasure he carries safe at all costs. When he rescues the Kingdom of Giliosthay's prince from raiders, he's rewarded by being forced into the king's elite Silver Guard. While this gives Athdar a temporary home and some protection from those hunting him, it also makes him responsible for the young prince, who still bears curses from the raiders, and seven enchantress princesses with curses as mysterious and dangerous as their brother's.
Princess Thea of Giliosthay is a Realm Walker. Betrayed by a trusted guard, her rare gift of enchantment is used to curse her brother and trap herself and her six sisters into a nightly dance with dragons in a secret Realm. The Realm's prince has the ability to take and twist her magic for his own purposes, and Thea fears what those might be. For when one dances with a prince, a kingdom might be at stake.
Athdar alone can save them, but to trust enchanters is to risk exposure. And Athdar isn't sure where his loyalties lie.
Wrought of Silver and Ravens is a clean adventure-romance retelling of The Twelve Dancing Princesses set in The Magic Collectors story world.
Wrought of Silver and Ravens is available as an ebook or print copy on amazon or through other retailers here. Wrought of Lions and Sand should be out late 2021.
Short Stories
Encircled: An Ever Afters Anthology
Experience six of the world's most beloved stories in a whole new light! From historical to futuristic, these re-tellings will take you to an enchanted forest, a cursed castle, and far beyond. Uncover secrets of a forbidden basement, a hypnotic gift, and a mysterious doll. Fall in love with a lifelong friend or brand-new crush. Venture to unknown lands on a quest to save a prince, a kingdom, or maybe even a planet. With moments of humor, suspense, romance, and adventure, Encircled has something to offer every fan of fairy tales, both classic and re-imagined.
This anthology features stories from S.E. Clancy, Jebraun Clifford, J.M. Hackman, E.J. Kitchens, Laurie Lucking, and Tori V. Rainn.
Amazon US: https://www.amazon.com/dp/B07PV4PJCP/
Amazon AUS: https://www.amazon.com.au/Encircled-Laurie-Lucking-ebook/dp/B07PV4PJCP/
Kobo: https://www.kobo.com/us/en/ebook/encircled
Barnes & Noble: https://www.barnesandnoble.com/w/books/1130963276
Apple books: https://itunes.apple.com/us/book/id1456811281
Tales of Ever After
August 2018 saw the release of Fellowship of Fantasy's Tales of Ever After, a fairytale anthology with my "Frog Prince" retelling entitled "How to Hide a Prince." If you like fairy tale retellings with surprise endings, check out "How to Hide a Prince" and the other tales of Ever After.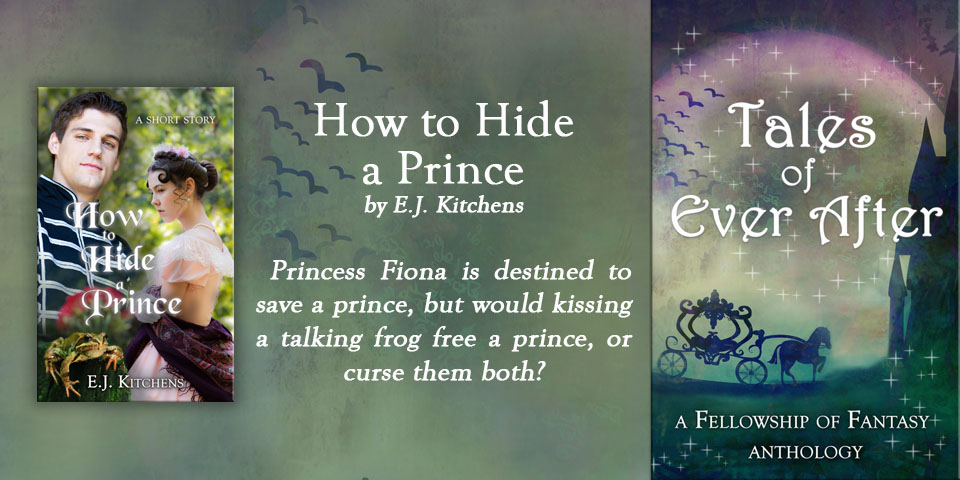 Janawyn Stahl is convinced there's a connection between her godfather's suspiciously talkative automaton named Theo and his lost nephew, but can she protect Theo from the evil Mouse King long enough to find out? A fantasy retelling of "The Nutcracker and the Mouse King."
"The Seventh Crown" is available as a free download when you signup for my newsletter.
NON-FICTION
Recently, an acquaintance with a small, academic-focused publishing house asked me to write an introduction for one of the Christian classics he was publishing. I chose G. K. Chesterton's Orthodoxy. Chesterton's a fabulous writer (non-fiction and fiction), brilliant thinker, and a fan of fairy tales. I thoroughly enjoyed reading Orthodoxy and learning about Chesterton's life and other books as I prepared the introduction for Vision Press's edition.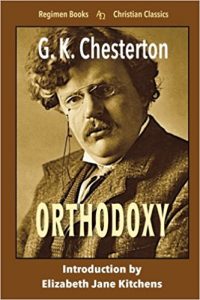 G. K. Chesterton was one of the most versatile writers of the last 200 years. He wrote newspaper essays, humor, novels (including the hugely popular "Father Brown" detective stories), among other genres. Of all his works, though, many consider Orthodoxy to be his best. A spiritual autobiography and apologetic for the Christian faith, it demonstrates Chesterton's marvelous and wide knowledge, his wit, and his keen analytical ability. Through his exploration of orthodox Christianity in opposition to atheism and modernism, Chesterton demonstrates the truth of Christianity and the insanity of the popular philosophies of his time — philosophies such as (along with atheism) pessimism, materialism, moral relativism, and scientific determinism that are still in need of challengers today. Chesterton's works have had a tremendous impact on the world — and Orthodoxy is just as relevant today as when it was written. Through it, he continues to provide a persuasive voice for faith and sound reasoning against skepticism and the flabby thinking of post-modernism.
WORKS-IN-PROGRESS
I have a bunch of books on the docket to finish! Up next are Cursed for Keeps (in the same series as Midnight for a Curse) and Wrought of Lions and Sand (Of Magic Made, book 2).
At the end of The Rose and the Wand, I promised the redemption story of a particular character. This story, tentatively called THE KING'S SPELL, is finished! It's book one of the Realm and Wand trilogy and will be release mid-2021. There are so many lovable characters in it. It's a wonderful adventure of saving king and kingdom from the sorcerers.
I also have Eva Floraison's story on my To-Be-Written list (admittedly a long list) to complete the stories of the enchantress sisters. This story will take place about two years after To Catch a Magic Thief. Lord Tyndale may have a story too, and there will be more stories in the Of Magic Made series with other characters.
Reviews of The Rose and the Wand
Laurie Lucking, author of Common: This book made me SO happy 🙂 It took a few chapters before I was really hooked, but after Alexandria's encounter with the magic mirror I couldn't wait to see what would happen next. I loved the way the pieces of the story came together and the characters and events from Beauty and the Beast weaved into Alexandria's tale. The secondary characters were well-rounded and so fun to get to know. And the love story… *sigh* I can't really say anything about it without risking spoilers, but suffice it to say Kitchens has created one of the most delightful couples I've ever read. The evening I finished I had a big, stupid grin on my face all night (seriously, my husband kept laughing at me). If you enjoy fairy tales with romance, adventure, and a dash of mystery, you will love this book!!
dingo4mum, amazon review: I LOVE this book. The cover is what grabbed my attention first. Then the sample (try a sample! It's free). Love, love, love E.J Kitchen's voice. The unexpected humor. The moral lessons struggles. The slow burn romance. This is a book that is clean, fun, and hard to put down. Next, please!
Lianne, amazon review: It was a very different and creative retelling of Beauty and the Beast with elements of other fairytales mixed in. I didn't want to stop reading it.