FICTION

When prim and proper enchantress Lady Alexandria attempts to bewitch a magic mirror, she ends up cursed—powerless, penniless, dumped in a strange land, and stuck in the body of an old hag.
As if that weren't bad enough, the mirror gives her two tasks: curse the prince whose arrogant cruelty she once ignored and find her way home—before the Magic Collectors find her and stripher of her powers forever and before the mysterious woodsman who finds her lost in the forest discovers who she really is.
The prince she curses must learn to love before an enchanted rose dies or he will remain a beast forever. Will her fate also be sealed when the last petal falls?
The Rose and the Wand is available for sale on amazon.com
Note: This was formerly published as The Beast's Enchantress. I decided to change the title when I updated the cover.
NON-FICTION
Recently,  an acquaintance with a small, academic-focused publishing house asked me to write an introduction for one of the Christian classics he was publishing. I chose G. K. Chesterton's Orthodoxy. Chesterton's a fabulous writer (non-fiction and fiction), brilliant thinker, and a fan of fairy tales. I thorough enjoyed reading Orthodoxy and learning about Chesterton's life and other books as I prepared the introduction for Vision Press's edition.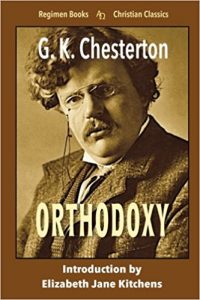 G. K. Chesterton was one of the most versatile writers of the last 200 years. He wrote newspaper essays, humor, novels (including the hugely popular "Father Brown" detective stories), among other genres. Of all his works, though, many consider Orthodoxy to be his best. A spiritual autobiography and apologetic for the Christian faith, it demonstrates Chesterton's marvelous and wide knowledge, his wit, and his keen analytical ability. Through his exploration of orthodox Christianity in opposition to atheism and modernism, Chesterton demonstrates the truth of Christianity and the insanity of the popular philosophies of his time — philosophies such as (along with atheism) pessimism, materialism, moral relativism, and scientific determinism that are still in need of challengers today. Chesterton's works have had a tremendous impact on the world — and Orthodoxy is just as relevant today as when it was written. Through it, he continues to provide a persuasive voice for faith and sound reasoning against skepticism and the flabby thinking of post-modernism.
WORKS-IN-PROGRESS
At the end of The Rose and the Wand, I promised the redemption story of a particular character. This story, tentatively called THE KING'S SPELL, is in the rewrite phase. It's been so hard to write! But I really like where it is going now, and though it will be a while (I'm a slow writer), I can't wait to introduce you to the story of Devryn and Meredith, and so many more lovable characters, in a wonderful adventure of saving king and kingdom from the sorcerers.
However, you won't have to wait too long for the story of Alexandria's sister Gabriella. You'd be surprised how differently the stuttering Marcel Ellsworth from The Rose and the Wand appears in this story. Alexandria only saw him at bad moments and through her lens of snobbery, but when a magic thief and sorcerers threaten Henly Manor, Marcel becomes a surprising hero (as it turns out, Alexandria missed out on an entire adventure of foiling a sorcerer's plot that was going on under her very nose with Gabriella and Marcel as key players). TO CATCH A MAGIC THIEF is finished! But it still needs editing and a cover. Check back for updates or, better yet, sign up for my newsletter!