For the fairy tale lover who's a little old for dolls and pink, plastic castles.
1. A magic mirror.
2. Cinderella slippers.
3. Cross-stich bookmarks.
4. Antique or illustrated copy of Hans Christian Anderson's Fairy Tales or the Grimm Brothers'.
5. A fairy tale book. I have a long list of classics and modern adaptions here. (I just released a fairytale about the enchantress from Beauty and the Beast called The Beast's Enchantress.)
6. A fairy tale movie.  I also have a long list of movies here.
7. A quill pen. Because they are beautiful and unique.
8. A ball-worthy gown. Check out the thrift stores and consignment stores, make one, order one, summon the fairy godmother…
9. Tiara or sparkly jewelry. No explanation necessary. Etsy, again, is a good place to start.
10. "Once Upon a Time" artwork.
11. Archery equipment or fencing lessons. For the warrior princess.
12. Ballroom dance lessons. A princess must know how to dance. Search for local ballroom dance clubs. This is a great thing for dads to do with their daughters or couples to do together.
13. Horseback riding lessons. The horse doesn't need to be as big as Belle's horse Philippe, however. Living Social sometimes has deals for local stables offering lessons.
14. A handwritten and illustrated fairytale. Girls love homemade gifts. It'll be easy. Start it with "Once Upon a Time", end it with "The End", have a little romance and adventure in the middle, and give it with a single rose.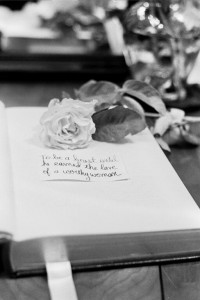 Did I forget anything? What fairy tale related gifts would you give or want to receive?